SHARE JOINTS, NOT GERMS
The MouthPeace, Mini, and Micro allows each person to take a germ free puff while sharing water pipes, joints, bowls, vapes, and more!

WEAK LUNGS TO LUNGS OF STEEL
Our Filters remove contaminants, resin, and tar, making each hit smoother and better tasting, with less coughing.

LESS HARSHNESS, MORE FLAVOR
MouthPeace Filters remove the bad so you can inhale the good.

NO LOSS OF AIRFLOW
We spent 16 months designing our Filters to allow for normal airflow and a great hit.
SUBSCRIBE & SAVE

Choose Your Schedule
Choose your Filter type and customize your delivery date to fit your needs. Need to pause? No problem!

Save 20% On Every Order
As a subscriber, you'll save 20% on all Filter reorders! Save your green to buy more green!

Prioritized Processing
We do our best to prioritize subscription orders to deliver Filters to you as quickly as possible. 
Reviews From Customers

EASIER ON OLD LUNGS
I ordered this item for the community hookah in my garage, they are right it's disgusting. What I found while using this is I saw a difference in the size of "hit?" I was able to take. Much larger than normal.   Great for tired old lungs!!
- Staun N.

MOOSE LABS LIFER
I've been buying filters from mooselabs for months. Refuse to smoke without them actually. The corn fiber filters took it to the next level. Not only do they filter all the bad stuff still but they last 5x longer. Mooselabs has a lifetime member here!
- Jessica H.

5 STAR COMPANY
Makes smoking much more enjoyable, as an asthmatic, these filters help more than anything I've ever found! I honestly have been using them for 3+ years now and don't think I'll go back to not using them EVER!
- Kole L.

FELT A DIFFERENCE IMMEDIATELY
Felt a difference immediately! Hits are way smoother and you quickly see all the gunk that is caught. Also even once it starts getting dirty it continues to work well for a while.
- Hannah J.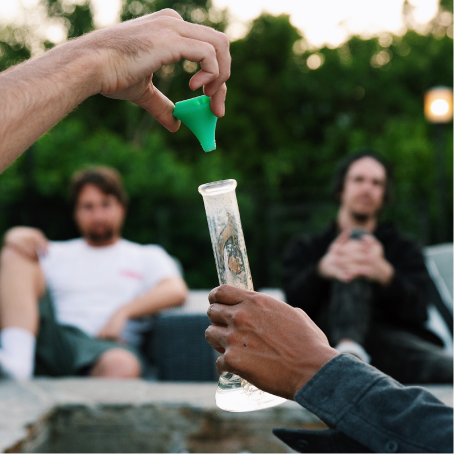 THE MOOSE LABS DIFFERENCE
We don't all drink from the same glass, so why should smoking be any different? That was the thought that revolutionized the industry.
shop now