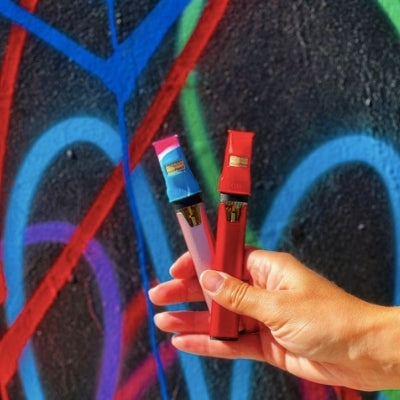 When you're using a vape pen, a vape filter is invaluable.
Sure, vaping is often considered a healthier alternative to smoking a joint. Even so, you may still be inhaling liquid leaks such as oil droplets that get pulled through, which will provide a negative smoking experience and even affect the flavor of your hits.
Using a vape smoke filter is essential to get the smoothest, cleanest hits. Vape filters help to remove contaminants as you inhale, making your hits healthier. They also help to improve the flavor and your overall experience. They're a must-have for anyone who vapes.
If you're looking for an effective way to improve your vape hits, you should seriously consider a vape pen filter.
In this article, we're going to show you how to use a vape filter germ-free, socially, all while filtering out any leaked oil residue. It's an easy thing to do that will help elevate your vaping experiences.
Vape Filters with a Triple Layer Carbon Filter
Vape filters are an essential accessory for anyone who uses a vape pen. If you're a daily user like myself, they're even more integral. Inhaling contaminants every single day certainly wouldn't do you any favors, and a filter will help keep them out of your lungs.
The problem is that there really aren't that many great vape filters on the market. Most of the ones available don't filter out or reduce oils optimally. However, there is one out that does. It stands above the rest as one of the most effective filters available.
The Vape Filter You've All Been Waiting For : MouthPeace Mini
When it comes to using a filter in a vape, nothing beats the MouthPeace Mini. It's a unique vaporizer filter that's malleable and stretchy, which are traits that allow it to fit almost 80% to 90% of vapes and vape cartridges on the market. You can also use it on either opening, depending on which side best fits your device.
I have to admit that I was skeptical of this accessory at first. Why in the world would I want to put something on my pen?
I thought the filter would interfere with my experience and make things more awkward. Instead, the MouthPeace Mini was super easy to put on my vape pen. It just popped right on! And it stayed perfectly in place the whole time. It's sturdy and has an excellent, comfortable grip. Now, I won't vape without it.
A Vape Filter That Reduces Oil Droplets
The job of a good vape filter is to remove oil residue. The Mooselabs Mini vape filters reduce the amount of oils that get leaked or pulled through when you inhale, instantly improving the quality of the vapor you bring into your lungs. They use a triple-layer carbon-activated filter, which absorbs contaminants and enhances the flavor of your hits. While the filter has three layers, it won't block your intake or affect airflow.
Not only are the Mini filters effective at what they do, but they're also easy to replace. You can quickly swap out your old filter for a new one when it's time to change it. It only takes a moment of your time, allowing you to focus on what you really want, hitting your vape pen.
A Vape Pen Filter That Will Provide the Cleanest Hits
A vape filter is essential for reducing the amount of residue you inhale from your vape pen, providing you with the cleanest, smoothest, most refreshing hits every time.
It's also a great way to reduce the number of germs that might spread around when vaping or smoking socially. So long as everyone has their own MouthPeace Mini, you'll be able to enjoy taking hits with your friends without having to worry about getting sick.
The other great thing about this vape filter is that it helps to reduce the harshness of your hits and the buildup in your lungs.
Now, concentrates and oils are already supposed to be one of the cleanest ways to smoke. You might be wondering why you would even need a vape filter on something that's supposed to be cleaner and better for you already. After all, a vape pen is supposed to be healthier than a joint — that's one of the main reasons I switched in the first place. I've been using my vape pen for the last several years. I didn't think anything could make my experiences better.
After my first sesh with the MouthPeace Mini on my vape pen, I was pleasantly surprised to learn I was wrong. My hits are so much better than I ever thought possible. They're smoother on the inhale, and the flavors are so much better than I ever knew. As I said before, I won't vape without it anymore.
Vaporizer Filters for Every Occasion
The MouthPeace Mini vaporizer filter is so simple to use. You won't have to worry about the hassle of setting anything up or getting something complex ready before you inhale. It pops right onto your vape pen, and you're ready to go. You can even leave it in place until it's time to change the filter inside.
As if that weren't enough, the MouthPeace Mini comes in an array of colors, allowing you to choose the one (or ones!) that fits your personal preferences. I'm a fan of the bright green myself, but I'll go with my gray or black one if I'm feeling more reserved. 
These filters aren't just practical. They're also a fun way to smoke on the go or in the comfort of your own home. You can use them wherever you go, adding a unique and cool touch to the overall appearance of your vape pen.
Conclusion
If you're looking for a great, effective way to improve the quality and flavor of your vape hits, there's nothing better than a vape filter. With triple-layer carbon-activated filtration, your vapor becomes cleaner, smoother, and healthier than ever. By reducing the amount of oil residue you inhale, you also get better-tasting hits every time.
For the best vape pen filter, look no further than the MouthPeace Mini. It'll give you a whole new outlook on your vaping experiences.