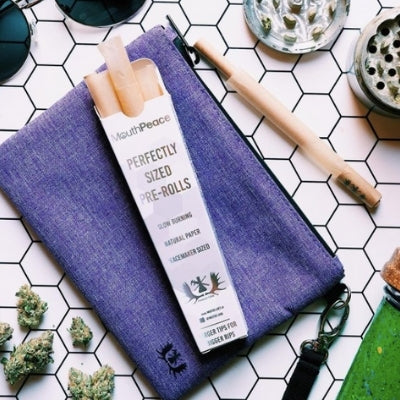 As a cannabis user, there's a good chance that you've heard of smell proof bags before. 
They have an essential job that other bags don't. Along with carrying your favorite products and accessories, they mask the recognizable odor of cannabis. 
However, not all odor proof bags are the same. Some are too big and bulky, which makes carrying your products inconvenient. Others aren't exactly what you might consider discreet. I've even had a couple of smell proof bags that say they're "smell proof" but learned the hard way they aren't. 
A smell proof weed bag is an essential accessory for anyone who smokes. If you're in the market for an odor blocking stash bag, here's what you need to know.
Smell Proof Bag - Components to Consider
Again, not all weed bags are of the same caliber. Some that carry the label "smell proof" are faulty or made poorly. A typical smell proof bag is generally made from low-quality materials or they might not seal tightly — both issues that allow the scent of cannabis to leak out. Certain smell proof bags can also be too inconvenient to carry around, making them more of a burden than a helpful accessory. Not to mention some are overpriced and too small to carry everything you need.
Let's take a look at a few components worth considering when shopping for a high quality and functional smell proof bag. 
Weed Bags for Anyone
If you're looking for an actual odor proof stash pouch that goes with everything, look no further than the Moose Labs smell proof carry bag. Also referred to as weed bags, stash bag, or stash pouch, this particular carry bag has an activated carbon liner that makes it the perfect smell proof container. You don't have to worry about the scent of your stash seeping through and giving you away. 
You don't even have to be a smoker to use weed bags like this. These smell proof bags can carry all sorts of little things, and they make great gifts for anyone in need of a carry pouch. 
Stash Bag to Hide Your Goodies
Moose Labs smell proof weed bags are the perfect size for convenience and discreteness. They're not cumbersome and not too teeny to fit what you need for your traveling smoke sesh. 
The stash bag comes with a wrist strap, making it look more like any other type of carrying pouch. Alternatively, you can toss it into your backpack or purse — where it won't take up much room at all. 
Along with being smell proof, this great little pouch comes in three colors — smoke, black domina, and purple kush. It's sleek, classy, and goes with pretty much everything. There are no obvious design indicators that it's a weed bag. They make the perfect accessory for every outfit and every occasion. 
Stash Pouch for All Stoners
This smell proof stash pouch is four inches by six inches, making it the perfect size for most cannabis users. It can fit everything you need for an on the go smoke sesh. That includes joint filters, your favorite buds, and a grinder.
With everything in one convenient location, you're not searching high and low for items. For someone like me who's prone to misplacing things, that's a pretty significant win. Plus, the activated carbon liner means you're not dealing with the smell of cannabis following you all over the place. 
For those on a budget, the price tag on many smell-proof weed bags can be a bit daunting, especially for their size. However, the more affordable options typically aren't the best quality. That's not the case with the Moose Labs stash pouch. It's a great size, made with high quality materials, and costs only $9.99.
Smell Proof Container: Worth It or Not?
A smell proof container is definitely worth the purchase, especially when it's a Moose Labs odor proof stash pouch. The three different color options are ideal for guys and girls alike, and they go with almost any outfit. Casual or formal, these weed bags are the perfect accessory and you don't necessarily have to be a cannabis smoker to use them. You can just as easily stash cash, cards, makeup, and more to take with you wherever you go. 
The price of the Moose Labs odor-proof bags also makes them well worth it. At just under $10 each, they're much more affordable than other options on the market. They're also the most high-quality pouches I've purchased. I've spent much more than that on other bags in the past. Most of the ones I've come across range from $20 to $100.
Odor Proof Bags Prevent Doubt
The scent of cannabis can draw a lot of unwanted attention. Not every user wants to announce the presence of their stash or the fact that they smoke to everyone around them. You might prefer to keep things on the down-low or perhaps you're going somewhere where not everyone might appreciate it as you do. 
Odor proof bags make transporting your stash a much more discreet endeavor. While big enough to accommodate your essential smoking supplies, a stash pouch is small enough to avoid suspicion. As far as anyone around you knows, it's just an ordinary carrying bag — it could hold your money, ID, and other small items. Best of all, it doesn't allow any odors to seep out through the material.
Everyone around you will be none the wiser. Whether you're on a bus, at church, or attending a family gathering, you can keep your cannabis use a secret with odor proof bags. 
Smell Proof Bags Make Transporting Your Stash a Breeze
Smell proof bags are an integral accessory for any cannabis smoker. Quality weed bags keep the cannabis smell contained, preventing you from having an odor surrounding you as you transport your stash. They're also durable, so they can stand up to long term use.
Moose Labs smell proof weed bags are the best odor proof bags on the market. They're high quality, look great, and work perfectly. You have three color options to choose from, so you can select the one that best fits your style and preferences.
In addition to being discreet and well made, they're also incredibly affordable. You can buy all three for less than the price of some less effective smell proof bags on the market. You don't even have to use them for weed. You can use them to carry almost any small item.
If you're looking for the best smell proof stash pouch on the market, Moose Labs has the perfect solution. Check out their smell proof carry bags and make your purchase today.